Shop Our Virtual Chew Bar
Treat Your Pet to Chewing Bliss
Honey Coated Bully Stick 12"
Regular price
Sale price
$8.99
Unit price
per
Sale
Sold out
This Honey coated Bully Stick delivers a protein-rich chewing experience dogs absolutely love!
Made of the highest quality ingredients, in accordance with international animal welfare standards, this bully stick is made with human-grade water buffalo out of India that are 100% grass fed, free range, grain free and are humanely raised without the use of added antibiotics or hormones.
Each treat and chew is then coated in sustainably-harvested honey for a product that is as sweet to the taste as it is strong in sustainability.
There is a significant difference between buffalo and beef. While the vast majority of cows bred for beef are raised in large factory farm settings, our buffaloes roam free. Our herds live outside in their natural habitat, eat their natural diet and stay in better health.
Coated in sweet honey, our treats and chews are what dog dreams are made of.
Ingredients:
100% Grass fed Water Buffalo pizzle, honey, natural honey flavor, potato starch, citric acid
Health Benefits:
Chewing helps promote healthy teeth and gums, just another layer of goodness!
Build a Bundle Discount

Buy 10 chews through Fill a Bag page & get 10% off everyday.
$9.99 Flat Rate & Free Shipping

Flat Rate shipping of $9.99 on any other containing only non-frozen items.

Free Shipping on any non-frozen orders over $100
Share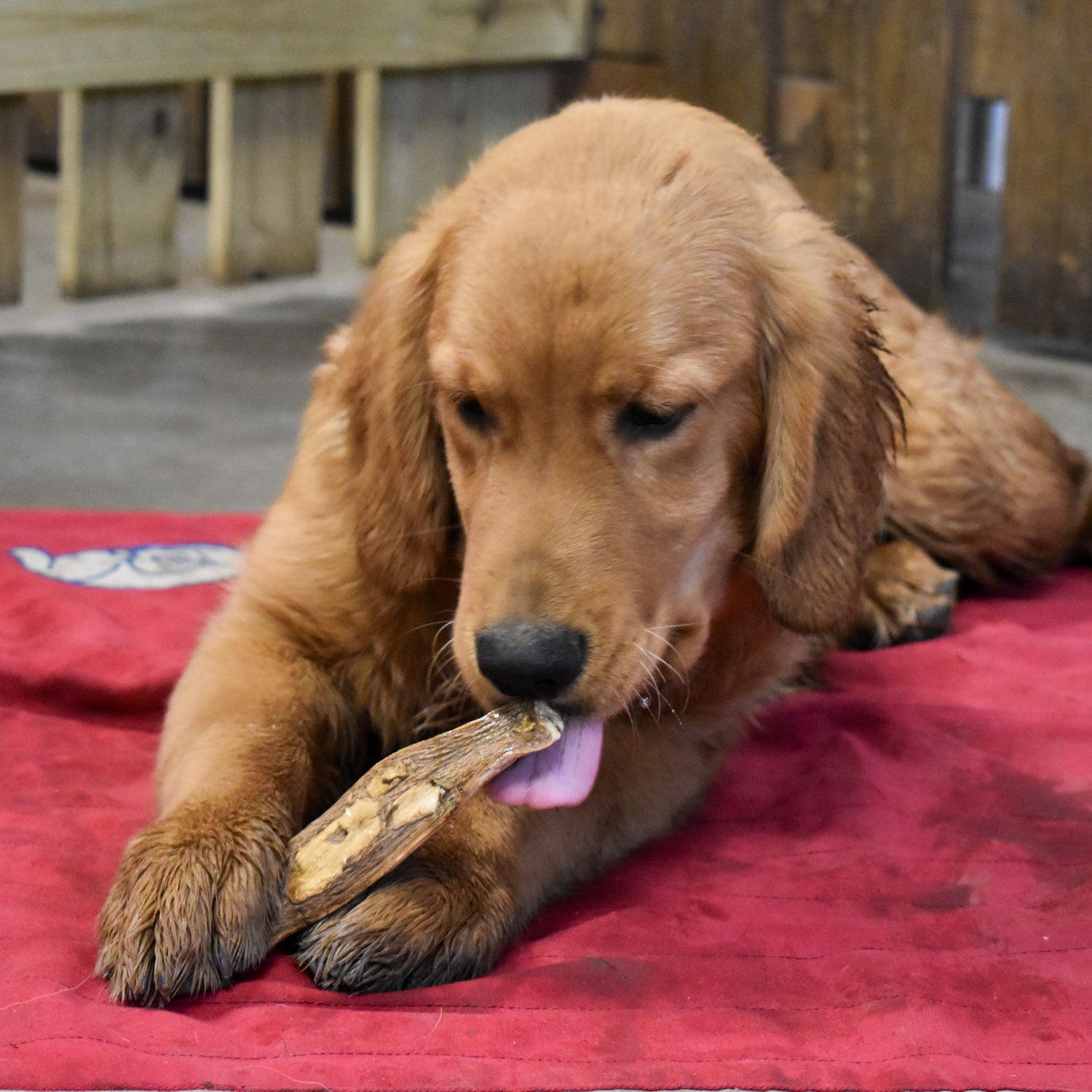 Dogs. Chews. Peace.
Peace in knowing that you are giving your dog the best edible chews available. Through our searches, you can offer your dog chews from around the world that are safe, healthy and tasty.
Chews for Dental Health

Chewing helps reduce plaque and tartar buildup, promoting healthier teeth and gums for fresher breath and improved oral hygiene.

Chews for Mental Stimulation

Engaging chews provide mental enrichment, alleviating boredom and preventing destructive behavior by giving your dog an enjoyable activity.

Chews for Bonding & Comfort

Engaging chews provide mental enrichment, alleviating boredom and preventing destructive behavior by giving your dog an enjoyable activity.
Frequently Barked Questions
Are there chews that are safe for dogs with allergies?

Absolutely, Most of our chews are single ingredient meat based chews making it quite simple to find the perfect chew for your dog's dietary restrictions and preferences.
Are chews safe for puppy teeth?

Yes, we offer a selection of puppy friendly chews that are gentle on puppy teeth & gums helping your puppy to develop healthy chewing habits. under 6 months of age, we reccomend staying away from the very hard chews, such as antlers.
Can chews encourage destructive behavior?

No worries, our chews are specially designed to redirect your dog's chewing tendencies towards safe and enjoyable options, curbing the desire for destructive behavior.
Some chews are expensive, are they worth the cost?

Indeed, chews are an investment in your dog's overall well-being. They provide both entertainment and health benefits, making them a valuable addition to your dog's routine. As long as the chews are safely sourced, they are a great value.
Do chews replace regular teeth cleaning?

While chews contribute to dental health, they work best in conjunction with routine dental care. They're a valuable addition to your dog's oral hygiene routine.