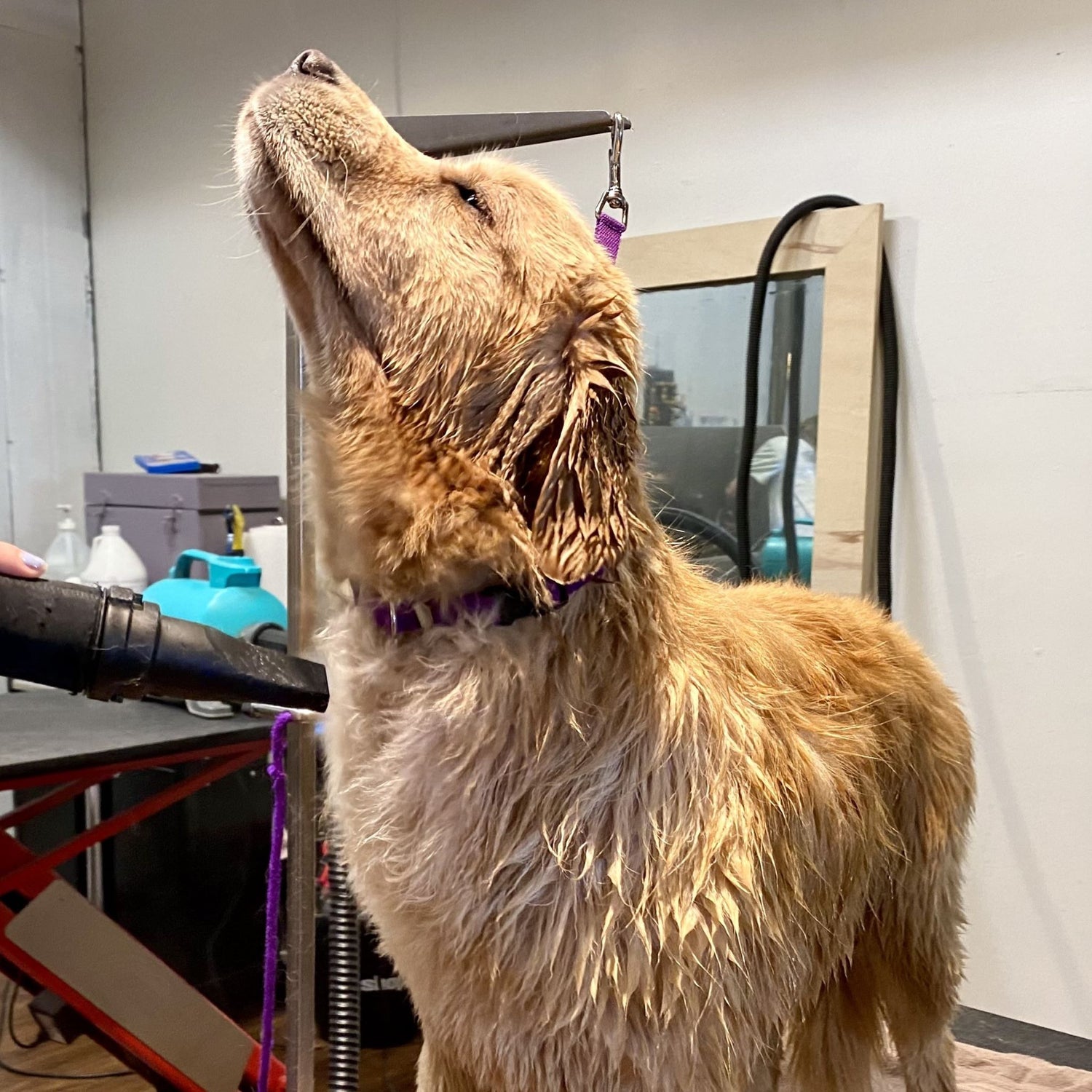 Embrace Pet Bliss with our Spa Services
At our locations we offer:
Full Service Grooming
Full Service Bathing
Walk-in Nail Trims
Self-Serve Wash
Experience Pet Care Like Never Before!
Love for Paws Dog Wash

"Full service dog wash, very clean environment, they provide all the essentials fantastic place!"

-Lori M.

"Connor groomed my poodle. I have a very large poodle and he gets anxious during his grooms. Connor was Excellent with him. My dog was treated like a king today."

-Jamie L.

"Took our mastiff here and they were so amazing. We bathed him ourselves and the staff was so helpful. This is our new favorite self dog wash and HIGHLY RECOMMEND!!!"

-Brandie L.

Kudos for Paws on Main

"This store has everything you would need for your furry friend. Elizabeth is an amazing groomer, she has been grooming my dog for a while and does an amazing job!"

-Nici E.

"Visited for the first time today. They were sweet and we got our puppy a bath there! Full service!"

-Kassy M.

"Dani and her staff are very helpful and attentive. Highest quality products and amazing bakery. We bought food and gifts, sampled baked treats for canines and humans, and the dog had a bath. Her fur has never been softer or shinier. Highly recommend!"

Cathy R.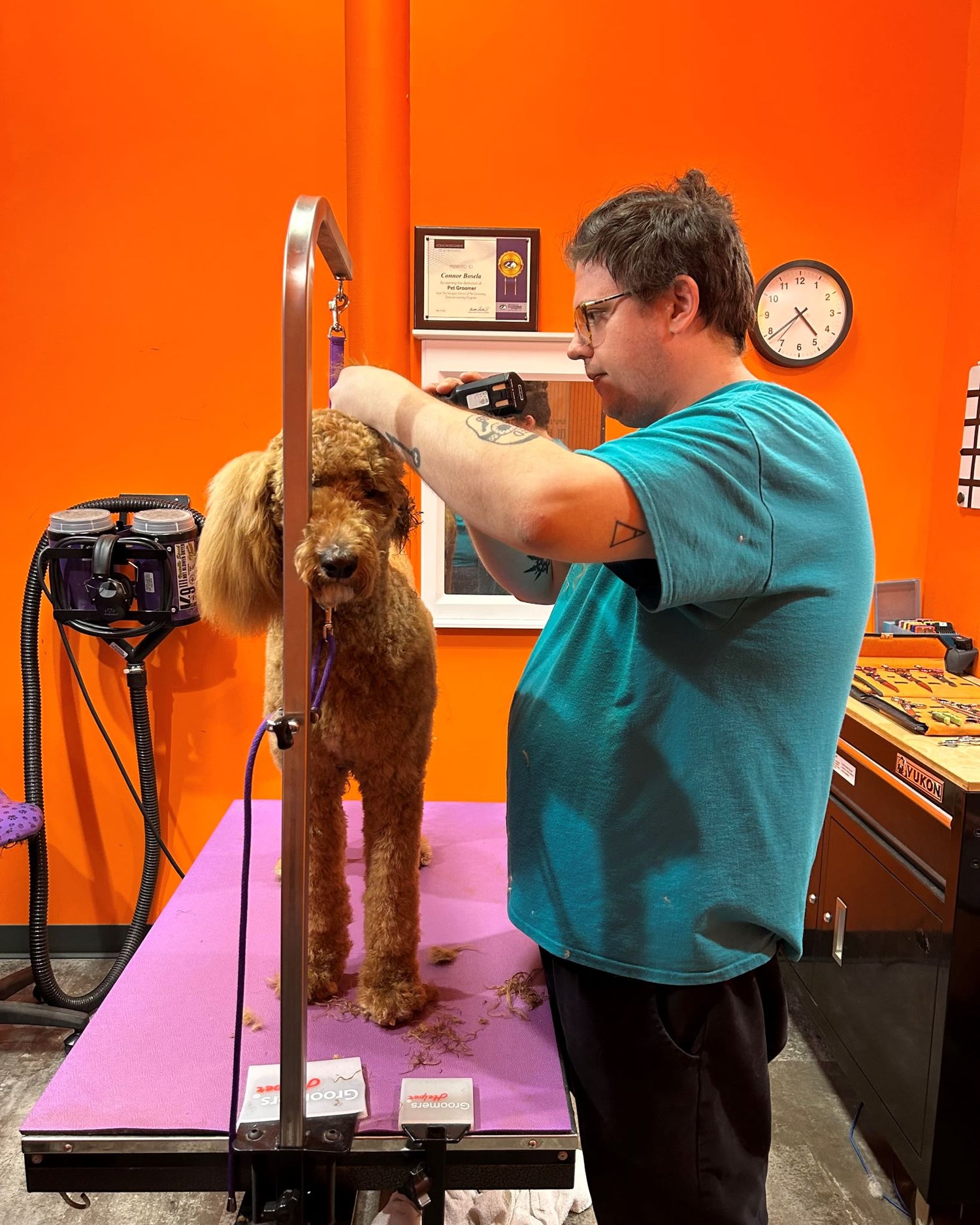 Stress-Free Glamour: Your Dog Deserves Our Grooming!
New Grooming Customers
We are currently accepting new customers at Paws Dog Wash.
Call us to schedule your dog's grooming appointment so we can decide exactly what you dog needs and how much time it will take.
Call 234-228-9859

Our Grooming Services
All of our grooming services include nail grinding or trimming, a full bath, ear cleaning, a blow dry and a clip, cut or trim.We specialize in gentle grooming with our groomers working on one dog at a time and having them ready for pick up upon completion so that you dog can experience the minimum stress possible.
We will follow what you have asked for your pet as closely as possible but we will not honor requests that would be painful or harmful to your dog.
Collapsible content
Grooming Prices

Grooming ranges from $45 to $160 depending on size of the dog and time requirements of the groom.

Matted dogs will be charged according to the time needed so they may have to be quoted when we see them.
Beyond Clean: Let our Bathers Pamper your Dog
Our Full Service Bath Service
Our full serve baths include a calm spa experience including:
•Nail grinding
•Facial Shampoo & conditioner
•Ear cleaning
•Blow drying
Add-ons include:
•De-Shed Flea & Tick Treatment
•Sensitive Skin Products
•Whitening Product
Book a Bath at Paws Dog Wash
Collapsible content
Full Service Bathing Prices

Prices range from a small dog short hair at $20.99 to XL dog with long hair at $55.99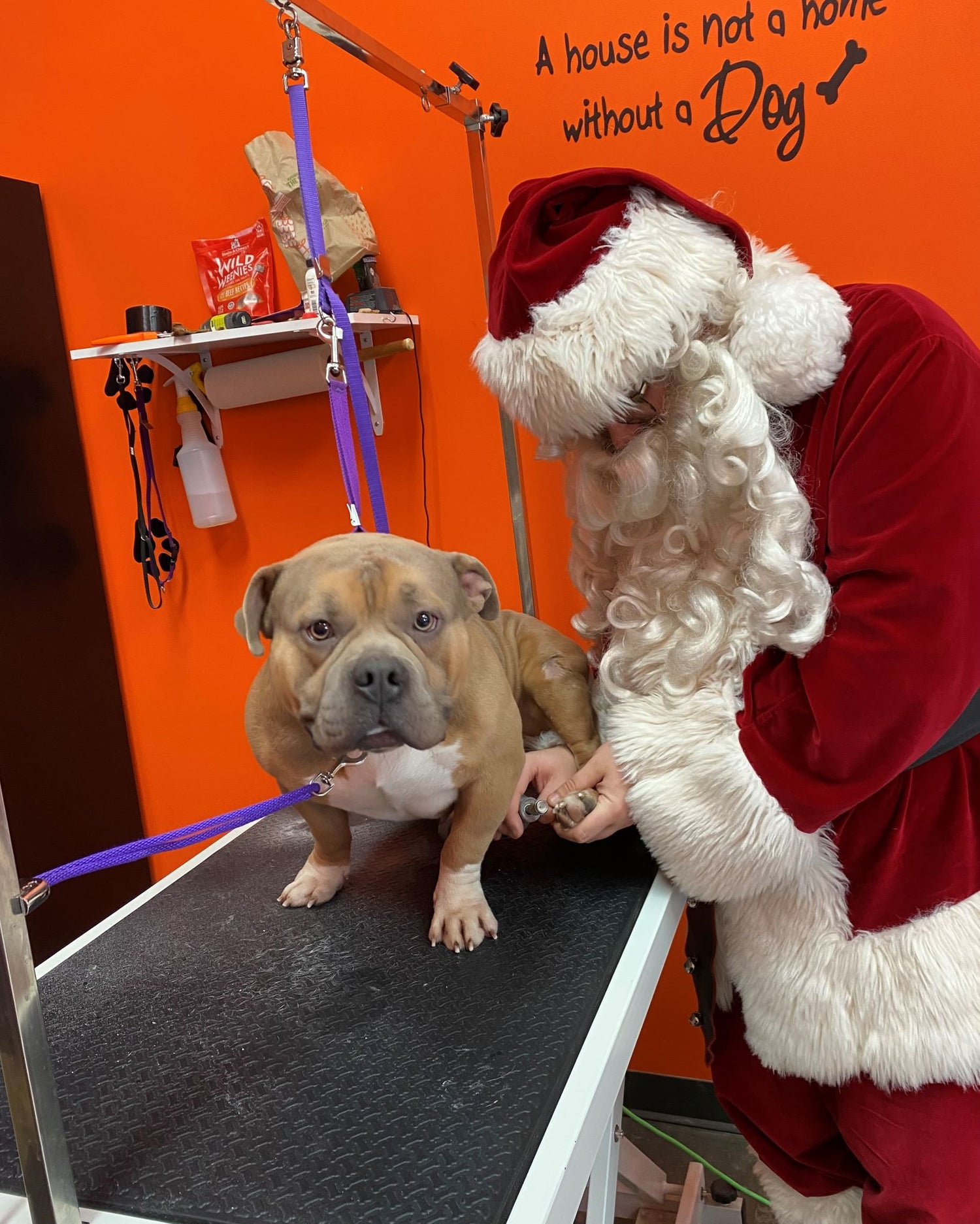 Happy Paws, Happy Dogs: Nail Care Excellence!
Paws Dog Wash - Walk-ins Welcome
Everyone at Paws Dog Wash is proficient at nail grinding & trimming. You can walk in at any time during open hours to have your dog's nails done.
Paws on Main - Call for Availability
Several of our team members at Paws on Main do nail trims. It is best to call 330-892-6012 to find out when they will be available.
We can either grind or clip your dog's nails. It is generally our preference to grind for the best trim for the dog. Please let us know if you prefer to have your dog's nails clipped.
Collapsible content
Nail Grind & Trim Pricing

Walk-ins - $12.00
With a Self Wash - $8.00
Nails are included in all full bathing & grooming services.
Mani-Monday!

Monday Nail Trim or Grind Special

$9 Nail Trims All Day Long
$6 Nail Trims if you spend $10 or more in our store.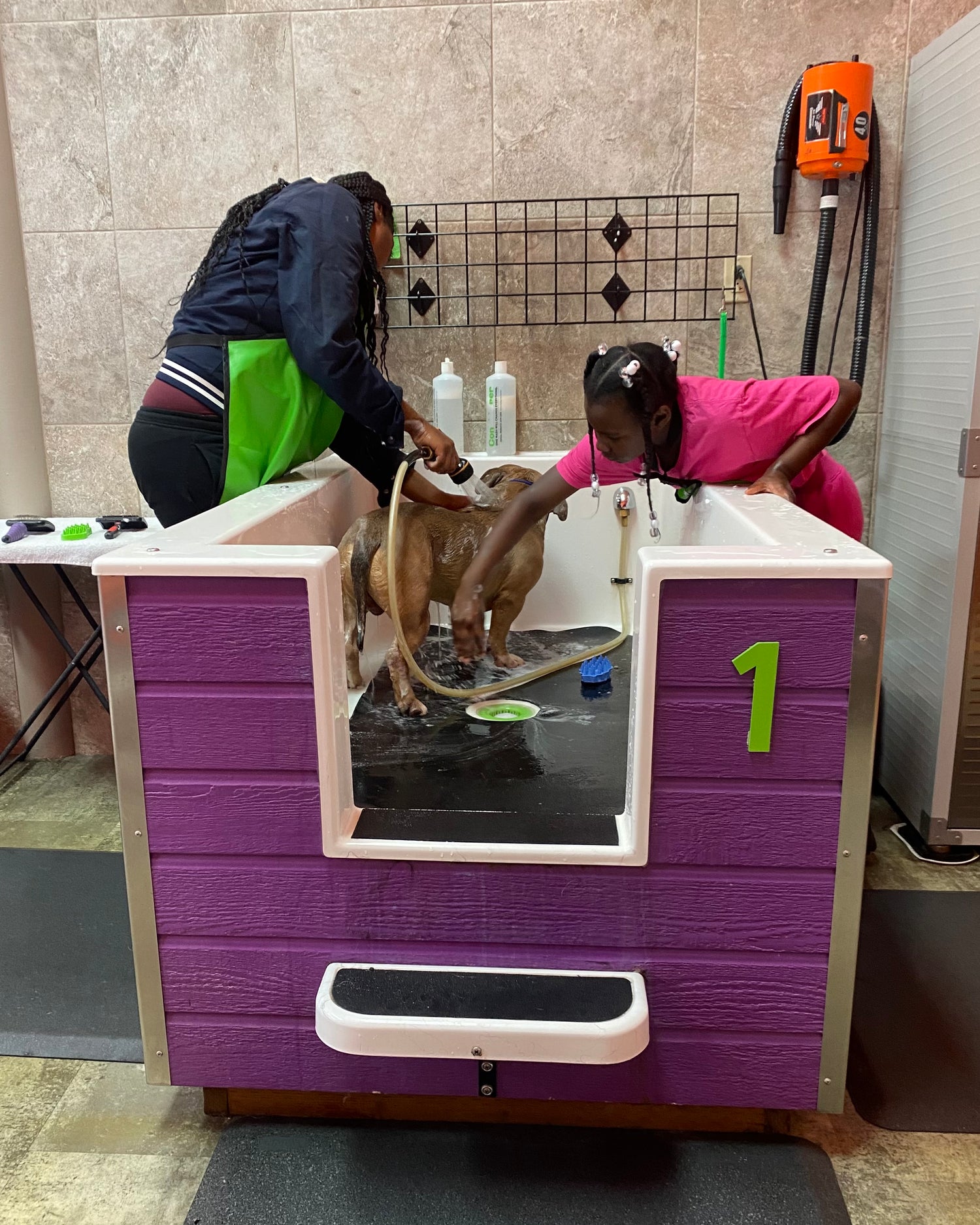 Bonding Bath Time: Wash and Wag Together
Paws Dog Wash Walk-ins are welcome until one half hour before closing on all days at Paws Dog Wash. There are four tubs available.Paws on Main Call for availibility at Paws on Main.
All of our self wash services include Shampoo, Conditioner, Towels, Chamois, Brushes, Rakes & Rubber Grooming Brushes. You also have a dryer availble to use in your tub. If there is anything else you need, let us know, we probably have it available.
Collapsible content
Self Serve Wash Pricing

Small - under 25lb. - $12.99
Medium - 25 to 60lb. - $15
Large - 61lb.& over - $18.99

Add -ons

Nail Grind or Trim - $8
Flea & Tick Shampoo - $10
DeShed Treatment - $15
Leave your Dog's Fur at Paws Dog Wash!

Oh Dog! Yep, all that fur was his! Use our De-shed service and you too can leave your dog's fur with us.

Ask for a De-shed with your Full Service Bath and we will use our practiced shampoo - conditioner - blow out process to perform MAGIC!

Add on a De-Shed for $10.
Frequently Barked Questions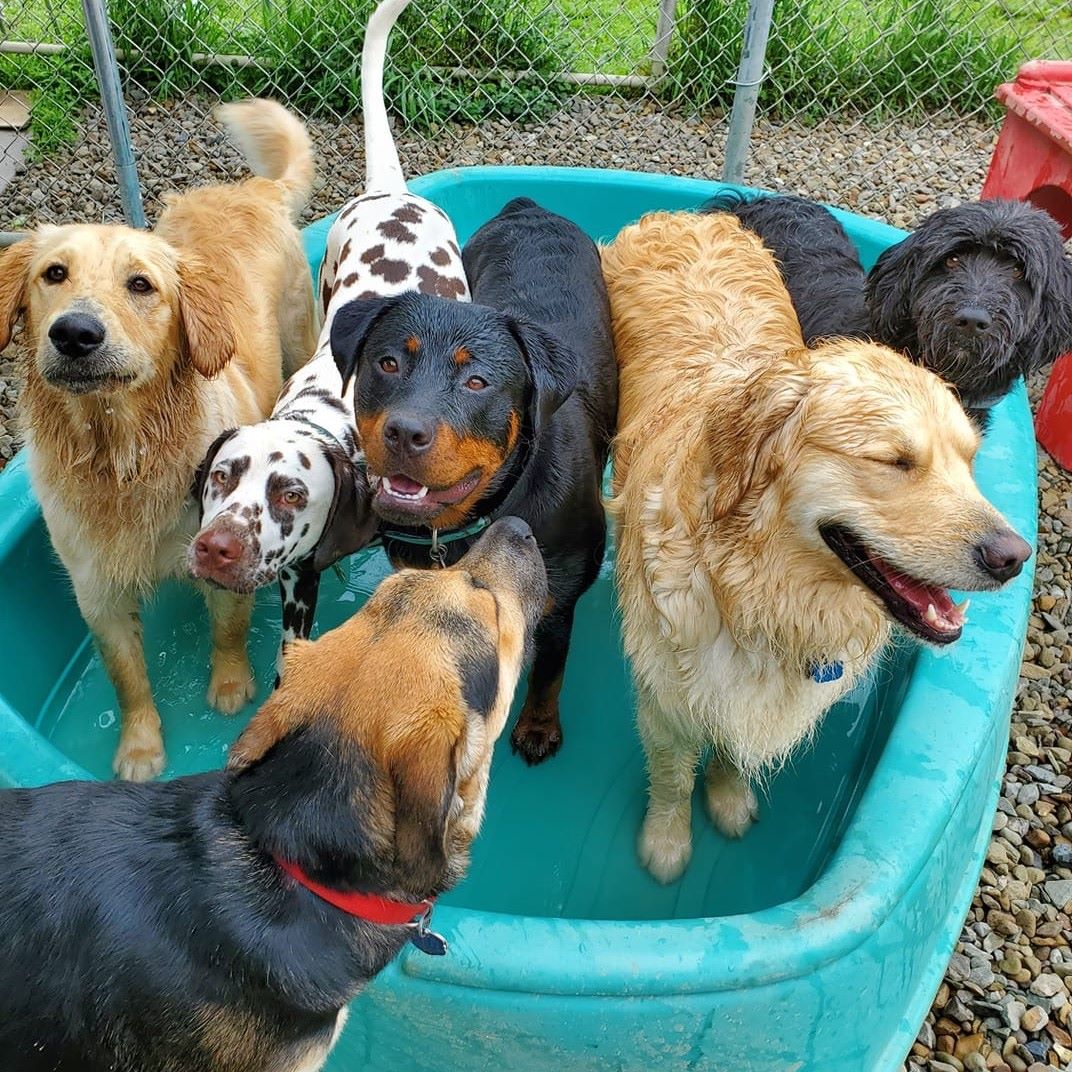 What does a Full Groom Include?

Your dog's full groom services will be tailored to his particilar needs but the services can include:

Ears Cleaned
Nails Trim or Grind
Paw Pad Trim
Face Trim
Sanitary Trim
Ears Cleaned
Ears pulled
Sensitive Skin Bath
DeShed Service
Flea & Tick Treatment
Dematting
Fur Cut
How often should my dog be groomed?

Grooming frequency varies by breed and coat type. Generally, every 4-8 weeks for full grooming keeps your dog clean, healthy, and looking their best.
What is the typical time it takes for a dog to be groomed?

A full grooming session typically takes 1-2 hours, but the duration may increase depending on your dog's size, breed, coat condition (particularly matting), and specific services required.
Can you accomodate specific breed styles?

Absolutely, our groomers are skilled in many different breeds and styles. If they are not familar with your particular breed, they will research the grooming of that breed and plan the best course of action with you. All of our groomers are familar with show & pet styles and are happy to make suggestions.
Capture Wag-tastic Moments in Doggone Fun Photo Booth!
Get your pup's portrait against changing backgrounds by Audrey. Swing by anytime for pawsitively fun puppy portraits!